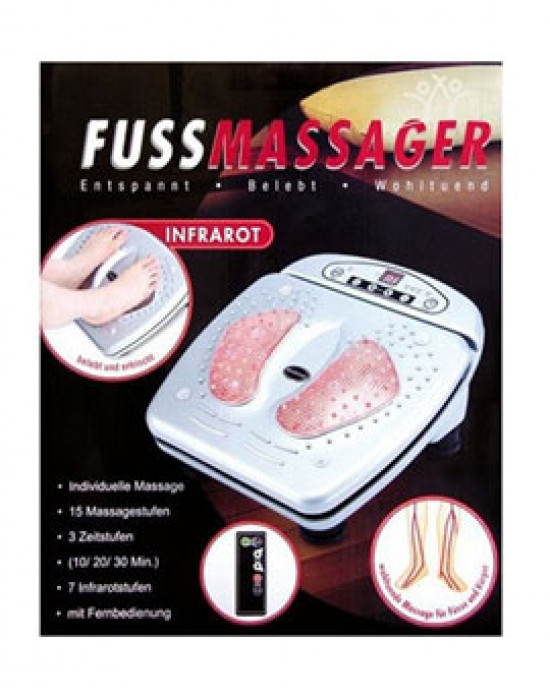 Secured Shopping
Bankkártyás fizetésünket a Barion biztonságos rendszerén keresztül bonyolítjuk.
Free Shipping
Free delivery over 30 000Ft
Free Returns
Hassle free returns
Vibration foot massager
A very pleasant sensations, massage is available on the activity of the biologically active substances, and these have an impact on the widening of blood vessels, what the consequences of increased permeability of blood, inhibiting blood flow elements disappear, the effect of all life functions work better. We must emphasize the beneficial effect of the massage nervous system, including the central nervous system, which may run simultaneously in the skin receptors in the muscles, joints and blood vessels. A direct impact on the functioning of internal organs and the nervous system through, thus contributing to the overall mental and physical relaxation.
Effects:
-stimulates circulation
-increases smooth delivery of the supply of oxygen and nutrients and hormones
-It improves the metabolic rate of the cells and restores
-improves detoxification
-protect the immune system
-improve and strengthen the functioning of the organs and bodily processes
-produces electricity from the general circulation, thereby ionizes the blood
Important informations:
Place of origin: EU
We provide a one-year manufacturer's and replacement warranty from the date of purchase for this product.
If you are dissatisfied and the item were purchased within 15 days, we will issue you the full refund.
If your ordered product fails, contact us with confidence, because we have a full-service background.
Delivery time: 1-3 days (if the ordered product is not in stock, our colleagues will call/text you and tell you the delivery time).
If you have any problems with the product, please contact us via e-mail at the following: info@wagnerhome.hu .
Stock:

In Stock

Model:

Vibrációs talpmasszírozó

Weight:

0.00kg

SKU:

WH-VIBRACIOS-TAPMASSZIROZO
Products Sold: 1
Product Views: 972