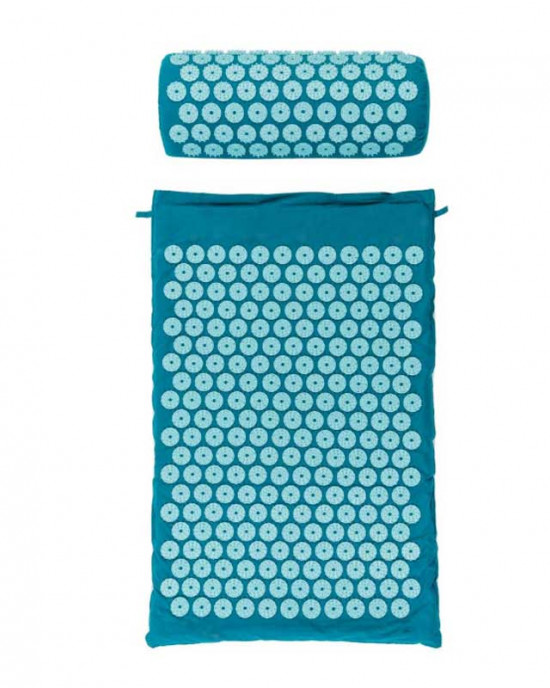 Acupressure mattress
The acupressure mattress can help you with the deep relaxation you achieve, and may stimulate the acupressure points.
The flower-shaped are plastic plates stimulates the acupressure points.

Effects:
- after 10-15 minutes of use, peptide hormones can flow through the entire body
- 20-30 minutes of use can significantly reduce stress and pain
- after 30-40 minutes of use, the pain can be greatly reduced, and the ability to act can multiply
Indications:
- help the deep relaxation you achieved
- can increase body oxygen uptake
- you can improve your digestion and sleep
- rheumatic complaints, neck and well inflammation
- you can improve the quality of life
- you can increase your energy levels
- reduce your stress levels
- can boost the blood circulation and vitalize the body
Contraindications:
- do not use on swollen or irritated skin
- do not use coagulation disorders, or blood thinners in case of application
- place the mattress in a stable place
- avoid sudden movements, when lying on the mattress
Sizes:
- mattress: 68 x 42 cm
- pillow: 39 x 15 x 10 cm

- bag: 21 x 54 cm
Material:
- cover: 100% cotton
- plastic flower-shaped
- do not washable
- just soapy, wet cloth to clean
Color:
-blue
Important informations:
Place of origin: EU
We provide a one-year manufacturer's and replacement warranty from the date of purchase for this product.
If you are dissatisfied and the item were purchased within 15 days, we will issue you the full refund.
If your ordered product fails, contact us with confidence, because we have a full-service background.
Delivery time: 1-3 days (if the ordered product is not in stock, our colleagues will call/text you and tell you the delivery time).
If you have any problems with the product, please contact us via e-mail at the following: info@wagnerhome.hu .
Stock:

In Stock

Model:

Akupresszúrás matrac

Weight:

1.00kg

SKU:

WH-AKUPRESSZURAS-MATRAC
Products Sold: 18
Product Views: 1667